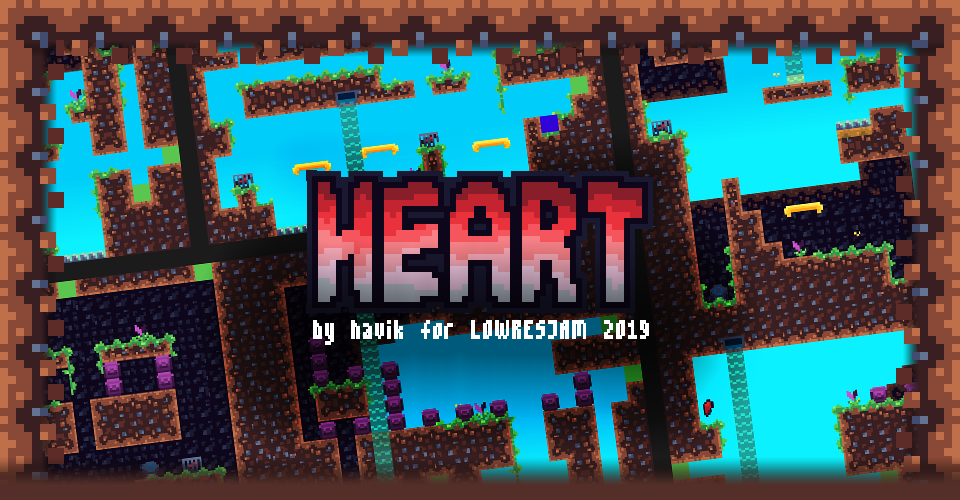 Heart
A downloadable game for Windows
CAN YOU FIND HEART'S COLOUR?
You are supposed to fail ! This is a trial and error 'semi rage towards the end' puzzle platformer. Press R to restart if you think you're stuck in a level. ESC to go back to the menu.
Heart is a puzzle platformer taking place in a large platformy world - but you can only view it 64x64 pixels at a time! (I scaled up the window though don't worry it's not tiny). Heart got lost and they lost their colour. It's scattered around the world! Can you help them find it? Heart is a pacifist so there will be no fighting, you damn brutes, why can't you all be like Heart?
The puzzles get harder as you go and there are lots of different mechanics to learn - the 'Read Me' page in game gives you a hint as to what each thing does.
No HTML5 version as it reeeaaally didn't like the fact I'd scaled some stuff and I'm too lazy to fix it this time. Desktop works fine!

GAMEPLAY
Complete the puzzle to progress to the next level. There is a level menu where you can select any level you want - I did this so you can skip levels you find too hard, boring, or if you just want to have a look around. Levels will turn green if you have completed them!
DEVELOPMENT
Made in GMS2 in a few days for LowResJam 2019. This jam is a two week long jam, so I hear you ask 'why a few days?' WELL I started planning for it, then took part in another overlapping jam and completely forgot about this, until a friend mentioned it too me. Luckily I had 4 days left to get it done so, could have been worse!
One cool thing: the entire game is in one room! The camera/player is just locked into the level specific active area. Makes for quite a cool screenshot:
BEGGING
If you like it - follow me on twitter! I hardly use it but, maybe one day I will, and then we can be twitter friends. -> Twittwoo
If you enjoy - make sure to leave a comment and let me know if you have a game as well. I'll make sure to give it a play!
Thanks for playing :)
Download
Download
heart by havik DESKTOP.zip
11 MB
Install instructions
Download .... extract .... rage quit I MEAN PLAY, play, don't rage quit.